SB-SOM: Connectors: P10
Description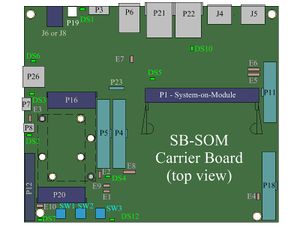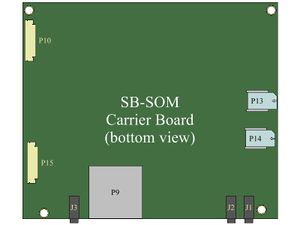 Connector P10 is a 40pin FPC connector (output) designed to drive an LCD panel with resistive touch capabilities. Connector P10 is available only in case parallel RGB interface is available at "PDISP" pins of system-on-module. Connector P10 allows seamless connection of the SHENZHEN STARTEK ELECTRONIC TECHNOLOGY KD050C-1A-TP LCD panel.
Only one of the following SB-SOM display interfaces can be driven with the system-on-module parallel RGB interface at a time. Driving more than one of the below simultaneously is in most cases unsupported.
A DVI/HDMI display at connector J5.
An LVDS display at connector P11 (if implemented through parallel RGB interface with your specific SB-SOM board).
An LCD display at connector P10.
| | |
| --- | --- |
| | Selection of the parallel RGB interface path (DVI/LVDS/LCD) must be implemented through system-on-module software. |
| | |
| --- | --- |
| | Please refer to SB-SOM carrier board schematics and system-on-module hardware reference manual for pin functions, connector pinout and other details on your specific system. |
More Details: Connector J5, Connector P11.
Connector Data
P10 connector
Manufacturer
MFG P/N
CVILux
CF20-401D0R0-LF
Supported LCDs
The following table summarizes LCD panels, datasheets of which have been checked by Compulab for hardware compatibility with the evaluation kit LCD connector. Compatibility is determined by three main parameters:
Interface (connector + data/clock etc signals).
Backlight (voltage, current, pinout).
Resistive touch panel (pinout only).
NOTES:
Only datasheet analysis has been performed by Compulab, none of the below LCDs were tested to operate with the evaluation kit.
Compulab demo software adaptation is required for most LCDs to work properly with the evaluation kit.
Manufacturer
MFG P/N
Size
Resolution
Interfaces
Notes
Display
Touch
Backlight
HAOYU Electronics
HY43-LCD
4.3"
480x272
Compatible
Compatible
Compatible (19.2V@40mA Typ)
HAOYU Electronics
HY5-LCD
5.0"
480x272
Compatible
Compatible
Compatible (19.2V@40mA Typ)
HAOYU Electronics
HY5-LCD-HD
5.0"
800x480
Compatible
none
Compatible (19.2V@40mA Typ)
HAOYU Electronics
HY7-LCD
7.0"
800x480
Compatible
Compatible
Incompatible (9.9V@140mA Typ)
EastRising
ER-TFT043-3
4.3"
480x272
Compatible
Compatible
Compatible (25V@15mA typ)
EastRising
ER-TFT050-2
5.0"
480x272
Compatible
Compatible
Compatible (19.2V@40mA typ)
EastRising
ER-TFT050-4
5.0"
800x480
Compatible
Compatible
Compatible (19.2V@40mA typ)
EastRising
ER-TFT070-4
7.0"
800x480
Compatible
none
Compatible (22.4V@40mA typ)
Newhaven
NHD-4.3-480272EF-ASXN-CTP
4.3"
480x272
Compatible
none (separate connection, capacitive)
Incompatible (25.6V@40mA typ)
Newhaven
NHD-4.3-480272EF-ASXN-T
4.3"
480x272
Compatible
Compatible
Incompatible (25.6V@40mA typ)
Newhaven
NHD-4.3-480272EF-ASXN
4.3"
480x272
Compatible
none
Incompatible (25.6V@40mA typ)
Newhaven
NHD-4.3-480272EF-ASXV
4.3"
480x272
Compatible
none
Incompatible (25.6V@40mA typ)
Newhaven
NHD-4.3-480272EF-ASXV-CTP
4.3"
480x272
Compatible
none (separate connection, capacitive)
Incompatible (25.6V@40mA typ)
Newhaven
NHD-4.3-480272EF-ASXV-T
4.3"
480x272
Compatible
Compatible
Incompatible (25.6V@40mA typ)
Newhaven
NHD-4.3-480272EF-ATXL
4.3"
480x272
Compatible
none
Compatible(19.2V@40mA typ)
Newhaven
NHD-4.3-480272EF-ATXL-CTP
4.3"
480x272
Compatible
none (separate connection, capacitive)
Compatible(19.2V@40mA typ)
Newhaven
NHD-4.3-480272EF-ATXL-T
4.3"
480x272
Compatible
Compatible
Compatible(19.2V@40mA typ)
Newhaven
NHD-4.3-480272EF-ATXL-T
4.3"
480x272
Compatible
Compatible
Compatible(19.2V@40mA typ)
Newhaven
NHD-4.3-480272EF-ATXL-T
5.0"
800x480
Compatible
none
Incompatible (19.2V@60mA typ)
Newhaven
NHD-5.0-800480TF-ATXL-CTP
5.0"
800x480
Compatible
none (separate connection, capacitive)
Incompatible (19.2V@60mA typ)
Newhaven
NHD-7.0-800480EF-ASXN
7.0"
800x480
Compatible
none
Incompatible (9.6V@180mA typ)
Newhaven
NHD-7.0-800480EF-ASXN-CTP
7.0"
800x480
Compatible
none (separate connection, capacitive)
Incompatible (9.6V@180mA typ)
Newhaven
NHD-7.0-800480EF-ASXN-T
7.0"
800x480
Compatible
none (separate connection, resistive)
Incompatible (9.6V@180mA typ)
Newhaven
NHD-7.0-800480EF-ASXV
7.0"
800x480
Compatible
none
Incompatible (9.6V@180mA typ)
Newhaven
NHD-7.0-800480EF-ASXV-CTP
7.0"
800x480
Compatible
none (separate connection, capacitive)
Incompatible (9.6V@180mA typ)
Newhaven
NHD-7.0-800480EF-ASXV-T
7.0"
800x480
Compatible
none (separate connection, resistive)
Incompatible (9.6V@180mA typ)
Newhaven
NHD-7.0-800480EF-ATXL
7.0"
800x480
Compatible
none
Incompatible (16V@60mA typ)
Newhaven
NHD-7.0-800480EF-ATXL-CTP
7.0"
800x480
Compatible
none (separate connection, capacitive)
Incompatible (16V@60mA typ)
Newhaven
NHD-7.0-800480EF-ATXL-T
7.0"
800x480
Compatible
none (separate connection, resistive)
Incompatible (16V@60mA typ)
DLC Display Co Ltd
DLC0700OZG
7.0"
800x480
Compatible
Compatible
Incompatible (9.3V@180mA typ)
KOE
TX11D06VM2APA
4.3"
480x272
Compatible
Compatible
Incompatible (27.9V@20mA typ)
AZ Displays
ATM0430D12-T
4.3"
480x272
Compatible
Compatible
Incompatible (27.9V@20mA typ)
AZ Displays
ATM0430D12-CT
4.3"
480x272
Compatible
Capacitive
Incompatible (27.9V@20mA typ)
Touch screen controller interface on separate 6pin connector while pins 37..40 are N.C.
AZ Displays
ATM0430D12
4.3"
480x272
Compatible
none
Incompatible (27.9V@20mA typ)
AZ Displays
ATM0430D12B-T
4.3"
480x272
Compatible
Compatible
Incompatible (27.9V@20mA typ)
AZ Displays
ATM0430D12B-CT
4.3"
480x272
Compatible
Capacitive
Incompatible (27.9V@20mA typ)
Touch screen controller interface on separate 6pin connector while pins 37..40 are N.C.
AZ Displays
ATM0430D12B
4.3"
480x272
Compatible
none
Incompatible (27.9V@20mA typ)
AZ Displays
ATM0430D12M-T
4.3"
480x272
Compatible
Compatible
Compatible(19.2V@40mA typ)
AZ Displays
ATM0430D12M-CT
4.3"
480x272
Compatible
Capacitive
Compatible(19.2V@40mA typ)
Touch screen controller interface on separate 6pin connector while pins 37..40 are N.C.
AZ Displays
ATM0430D12M
4.3"
480x272
Compatible
none
Compatible(19.2V@40mA typ)
AZ Displays
ATM0500D12-T
5.0"
480x272
Compatible
Incompatible
Compatible(19.2V@40mA typ)
Touch screen controller interface on separate 4pin connector while pins 37..40 are N.C.
AZ Displays
ATM0500D12
5.0"
480x272
Compatible
none
Compatible(19.2V@40mA typ)
AZ Displays
ATM0500D13-T
5.0"
800x480
Compatible
Compatible
Compatible(19.2V@40mA typ)
AZ Displays
ATM0500D13
5.0"
800x480
Compatible
none
Compatible(19.2V@40mA typ)
AZ Displays
ATM0500D13E-CT1
5.0"
800x480
Compatible
none
Incompatible (19.2V@60mA typ)
Touch screen controller interface on separate 6pin connector while pins 37..40 are N.C.
AZ Displays
ATM0500D13E
5.0"
800x480
Compatible
Compatible
Incompatible (19.2V@60mA max)
AZ Displays
ATM0700D38B
7.0"
800x480
Compatible
none
Incompatible (10V@140mA typ)
TechToys (HK)
TY430TFT480272 Rev02
4.3"
480x272
Compatible
Compatible
Compatible (16V@40mA typ)
TechToys (HK)
TY500TFT800480 Rev01
5.0"
800x480
Compatible
Compatible
Compatible (23.1V@40mA typ)
TechToys (HK)
TY700TFT800480 Rev03
7.0"
800x480
Compatible
Compatible
Incompatible (9.6V@180mA typ)
ON TAT INDUSTRIAL COMPANY
CH430WQ01-T (Rev.A)
4.3"
480x272
Compatible
Compatible
Compatible (22.4@20mA typ)
Orient Display
AFY320240B0-3.5N12NTM
3.5"
320x240
Compatible
none
Incompatible (9.6@40mA typ)
LCD has SCL, SDA & CS pins @ pins 35, 36 & 3 respectively. With compulab boards, Pin 35 is NC while pins 36 & 3 are grounded.
Orient Display
AFY320240B0-3.5N12NTM-R
3.5"
320x240
Compatible
Compatible
Incompatible (9.6@40mA typ)
Orient Display
AFY480272B0-4.3N12NTM
4.3"
480x272
Compatible
none
Incompatible (15V@40mA typ)
Orient Display
AFY480272B0-4.3N12NTM-R
4.3"
480x272
Compatible
Compatible
Incompatible (15V@40mA typ)
Orient Display
AFY480272B0-4.3N12NTM-C
4.3"
480x272
Compatible
Incompatible (capacitive TS on separate FPC connector)
Incompatible (15V@40mA typ)
Orient Display
AFY800480B0-7.0N12NTM
7.0"
800x480
Compatible
none
Incompatible (25.6.6V@60mA typ)
Orient Display
AFY800480B0-7.0N12NTM-R
7.0"
800x480
Compatible
Compatible
Incompatible (25.6.6V@60mA typ)
Orient Display
AFY800480B0-7.0N12NTM-C
7.0"
800x480
Compatible
Incompatible (capacitive TS on separate FPC connector)
Incompatible (25.6.6V@60mA typ)
Orient Display
AFY800480B0-5.0N12NTM
5.0"
800x480
Compatible
none
Compatible (18.6V@40mA typ)
Orient Display
AFY800480B0-5.0N12NTM-R
5.0"
800x480
Compatible
Compatible
Compatible (18.6V@40mA typ)
Orient Display
AFY800480B0-5.0N12NTM-C
5.0"
800x480
Compatible
Incompatible (capacitive TS on separate FPC connector)
Compatible (18.6V@40mA typ)
SHANGHAI TIANMA MICRO-ELECTRONICS
TM043NBH02-40
4.3"
480x272
Compatible
Compatible
Compatible (16V@40mA typ)
SHANGHAI TIANMA MICRO-ELECTRONICS
TM043NDH-40
4.3"
480x272
Compatible
None
Compatible (16V@20mA typ)
SHANGHAI TIANMA MICRO-ELECTRONICS
TM043NVHG01
4.3"
480x272
Compatible
Incompatible
Compatible (16V@20mA typ)
discrete connector for capacitive touch screen (on I2C)
SHANGHAI TIANMA MICRO-ELECTRONICS
TM047NBH03
4.7"
480x272
Compatible
Compatible
Compatible (16V@20mA typ)
SHANGHAI TIANMA MICRO-ELECTRONICS
TM047NDH03 V2.2
4.7"
480x272
Compatible
None
Compatible (16V@40mA typ)
SHANGHAI TIANMA MICRO-ELECTRONICS
TM050RDH03
5.0"
800x480
Compatible
None
Compatible (21.7V@20mA typ)
Chimei Innolux
TM050RDH03
5.0"
800x480
Compatible
Compatible
Compatible (19.8V@40mA typ)
Chimei Innolux
AT043TN25 V.2
4.3"
480x272
Compatible
none
Incompatible (27.9V@20mA typ)
Chimei Innolux
AT043TN24 V.7
4.3"
480x272
Compatible
Compatible
Incompatible (27.9V@20mA typ)
Kyocera
TCG043WQLBAANN-GN50
4.3"
480x272
Compatible
None
Incompatible (22V@60mA typ)
HannStar
HSD043I9W1-A
4.3"
480x272
Compatible
Compatible
Compatible(19.8V@40mA typ)
pin 35 on LCD is used to select interface mode, while on our board it is NC.
Credit Display Corporation
CRD043TN01-40NM01
4.3"
480x272
Compatible
None
Compatible(22.9V@20mA typ)
Credit Display Corporation
CRD043TN01-40NM01
4.3"
480x272
Compatible
None
Compatible(22.9V@20mA typ)
Tekswo Display Corporation
TSW043TN01-40NM02
4.3"
480x272
Compatible
None
Compatible(22.9V@20mA typ)
Data Image
SCF0500133GGU19REV:2
5.0"
800x480
Compatible
None
Incompatible(9.6V@120mA typ)
Data Image
FG0500A0DSSWBGT1
5.0"
800x480
Compatible
Compatible
Compatible(23.1V@40mA typ)
Data Image
FG0500A0DSSWBG01
5.0"
800x480
Compatible
none
Compatible(23.1V@40mA typ)