SB-SOM: Connectors: P16
Description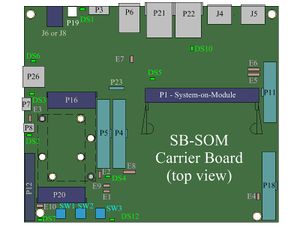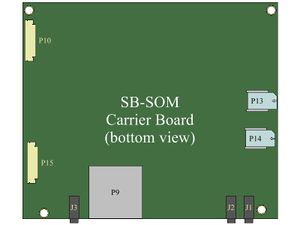 Connector P16 is a standard miniPCIe connector. Connector P16 is populated with all SB-SOM assembly configurations. P16 enables operation of following types of devices with the system:
mini PCI-Express form factor PCI-Express endpoint devices.

PCI-Express devices are supported if PCI-Express interface is available at pins 125, 127, 131 and 133 of system-on-module.

miniPCIe form factor USB devices (such as cellular modems).

USB devices are supported at connector P16 if the SB-SOM USB hub upstream port is implemented with system-on-module.
Jumper E7 setting determines whether USB interface is accessible at connector P16.
LED DS6 indicates whether USB interface is accessible at connector P16.
When a cellular modem is snapped into connector P16, a standard micro-SIM card can be interfaced with the modem through connector P13 (micro-SIM socket).
| | |
| --- | --- |
| | Please refer to SB-SOM carrier board schematics and system-on-module hardware reference manual for pin functions, connector pinout and other details on your specific system. |
More Details: Connector P13.
Connector Data
P16 connector
Manufacturer
MFG P/N
comment
Lotes
AAA-PCI-049-K01_B
4mm height
Lotes
AAA-PCI-046-K01
5.6mm height
Molex
48338-0099
9.9mm height

P16 mating plugs
Manufacturer
MFG P/N
Standard mini PCI-Express edge connector